Quality custom made glass and steel doors
Here at Door Technik we design and manufacture high quality custom built glass doors, steel doors, security doors, fire rated doors, acoustic doors and blast doors in Lincoln, UK
See our doors
Corten clad steel doors
Corten is a corrosion resistant weathering steel, used worldwide for its rustic antique appearance
See our steel doors
Quality custom made glass and steel doors
Here at Door Technik we design and manufacture high quality custom built glass doors, steel doors, security doors, fire rated doors, acoustic doors and blast doors in Lincoln, UK
See our doors
26th Feb 2021
COVID-19 update to our valued customers
Here at DoorTechnik we are monitoring the COVID-19 situation very closely.
We are still working, and are still manufacturing doors.
Our office staff are working remotely, and have full access to all our systems. They can still give you normal service; to answer your enquiries, produce quotations, provide technical advice, create drawings etc, or answer any other queries you may have.
Our factory remains open and is producing doors, though we are operating at a slightly reduced capacity, as we have implemented the recommended safe working practices for our staff.
DoorTechnik are following all up to date government advice on the COVID-19 pandemic and are practicing all recommended preventative measures to combat the spread of this virus.

Thank you for your continued support.
Glass Door and Steel Door Manufacturers
At DoorTechnik, we provide our clients with high quality, cost-effective doors for a variety of applications. With expert knowledge of the industry we provide an excellent quality of product, whilst still maintaining competitive pricing.
See Our Doors
Glass Doors, Security Doors & Steel Doors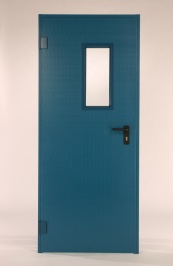 Steel Doors
A broad range of steel doors and steel fire doors. Made in the UK to your specification.
View Doors