What is glass manifestation?
Glass manifestation is a pattern applied to large sections of glass, such as doors and screens like the DoorTechnik GL15, SG20 and SGP, making clear glass more visually obvious. Whilst helping prevent injury from collisions with the glass, obscure manifestation can also be used to provide privacy and create decorative effects.
Manifestation can take the form of squares, dots, lines, company logos or any other designs.
Frosted film designs are the most popular type of manifestation we apply to our doorsets, but we can also provide your logo or design colour printed, etched or sandblasted onto the glass.
| | | | |
| --- | --- | --- | --- |
| | | | |
Do I need it?
The Building Regulations Approved Document M tells us that glass manifestation is required unless:
the glazing has a mid-rail
the single pane glazed door has a substantial frame
the glazed doors have a large handle or push plate on each single pane.
Glass doors and screens must be clearly defined with glass manifestation on the glass at two levels; between 850mm and 1000mm and between 1400mm and 1600mm above the floor, contrasting visually with the background seen through the glass (both inside and out) in all lighting conditions.
It can take the form of a logo or sign at least 150mm high (repeated if on a glazed screen), or a decorative feature such as broken lines or continuous bands, at least 50mm high.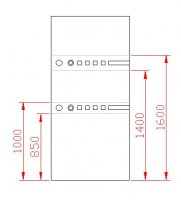 It is the responsibility of the building owner and occupier to ensure that glass manifestation is present in areas that require it.
More information can be found in the Building Regulations Approved Document M and Approved Document K.