Access controlled doors are commonly used to limit, control, or monitor access to a building, zones within, or individual rooms. Whilst keys or push-button handles can be a simple method of access control, access control is normally taken to be an electrically operated system which keeps doors locked, until released by a signal from:
Telephone or video entry system overseen by a receptionist or security guard - (press button to release)
Numerical keypad, proximity reader, swipe card, or biometric reader (finger, face, voice etc)
Fire alarm
To be part of a building's access control system, doors need to be fitted with an electrically operated locking mechanism. DoorTechnik doors may be fitted with maglocks, shearlocks, electric strikes, or motorised locks, which will connect to most commercial access control systems running at 12V or 24V.
Lock choice is determined by the powered or unpowered lock behaviour, and by the door type.
In general:
Maglocks and shearlocks unlock when power is withdrawn (fail unlocked)
Electric strikes and motorised locks are normally selectable to be either locked or unlocked when power is withdrawn
Escape doors must be unlocked when power is withdrawn
Fire doors and security doors are locked when power is withdrawn
Locks should be specified, configured and controlled to suit the door types as follows:
Door Type

Unpowered lock state

Suitable access controlled locks

All escape doors, whether fire doors or security doors or not

Unlocked

Maglock, shear lock.

Electric strike or motorised lock, when set to fail unlocked.

Non-escape doors fire doors

Non-escape security doors

Locked

Electric strike or motorised lock, when set to fail locked.
Note that escape door functionality take precedence over that of fire doors and security doors, so that escape doors of any type must unlock when unpowered.
For the UK, further guidance concerning escape doors and their locking systems, and fire doors, may be found in the following publications:
The Building Regulations 2010, Approved Document B
The Building Regulations 2010, Approved Document B1, 5.10 Doors on escape routes, 5.11 5.12 Door fastenings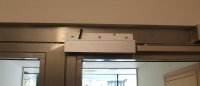 Maglock
| | |
| --- | --- |
| Shearlock | Electric Strike |