DoorTechnik is dedicated to designing and manufacturing safe and secure doors. We aim to send at least one of our doorsets to Exova Warringtonfire each year for extensive fire testing.
In April, we will be sending new arrangements of our G15 doorset to Exova Warringtonfire to be tested for fire safety.
What is a fire door?
To meet fire regulations in the UK, a fire door must be fire rated in accordance with BS476 parts 20 and 22 or BS EN 1634. This means it should maintain its structural integrity for a period of time in the event of a fire. Most doors will provide some level of fire resistance, however, to be classed as a fire door in the UK, and to meet fire regulations, fire rated doors must be used.
Which doors are fire rated?
| | | |
| --- | --- | --- |
| Door Model | Type | Fire rating |
| G15  | Steel personnel door | 4 hours* |
| AC15 | Steel acoustic door | 2 hours* |
| SG20 | Glass door | 3 hours* |
| WS15 | Double action steel door | 1 hour |
*depending on configuration
What does a fire test include?
For this fire test, the G15 will be tested to BS EN 1634. G15 fire doors will be installed to a wall on the front of a furnace, which simulates a fire. Thermocouples are attached to the doors to constantly read the temperatures, and test engineers will observe and measure for distortion using laser rangefinders and gap gauges, constantly checking the integrity of the doors and fittings. Engineers will monitor the doors to measure how long it takes until the doors fail. We will then be given a report and a fire rating performance, which will be based on the length of time the door maintained its structural integrity, for example 30 minutes, 1 hour, 2 hours etc.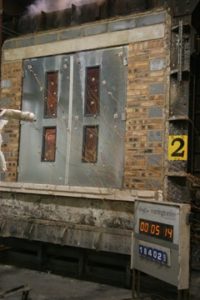 Why is fire testing so important?
Fire rated doorsets, or fire resistant doorsets, are an important part of a building's passive fire protection, preventing the spread of fire and protecting escape routes. As a responsible manufacturer, we take extra precautions when it come to the safety and security of our doors. We regularly talk to architects and contractors, and whilst we understand budget constraints and the difficulty of meeting fire and building regulations – safety and security are of paramount importance. We will always provide the highest quality fire doors with safety and security built in.
To talk to us about your requirements for fire doors, visit our contact us page.