DoorTechnik puts innovation at the heart of everything we do. We want to create quality products which help ensure that buildings are safe and secure. Since 2008, we've been working with local councils to develop a range of steel toilet doors which help protect public conveniences from vandalism, and also provide an additional income stream.
The ability to make facilities like public toilets self-sustaining is important to councils who are increasingly looking for ways to make services more cost-effective.
We currently have four doors available, ranging from a basic steel door to the U15 Ultimate – our most advanced doorset in the range.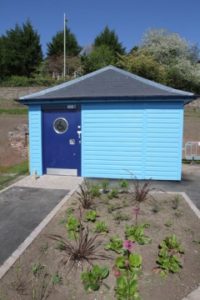 T15 Basic toilet door – A basic steel toilet door with no night-time locking or coin facility.
T15+ Basic Plus toilet door – The basic plus toilet door allows free use during the day, but locks itself at night to prevent vandalism. DDA Radar key entry is factory set to 'day only', and a service deadlock puts the cubicle out of use at night.
UL15 Ultimate Lite – The UL15 is an economical coin entry doorset. Allowing an unlimited time for cubicle use, and locking down for night-time security, this advanced door will also record usage data and control the cubicle lighting.
U15 Ultimate – The U15 Ultimate is perfect for unattended public conveniences or restrooms, its advanced features minimise vandalism, protect the user, and generate revenue. This door provides the opportunity to allow access to any facility either for a limited period, or at particular times of the day.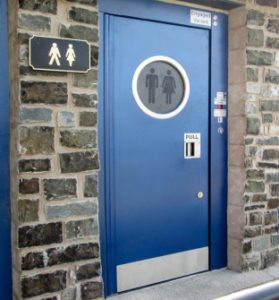 Features available:
Green and red Vacant and Engaged high level and eye level LED's outside
Coin entry with external display, taking 5p, 10p, 20p, 50p, £1 and £2 as standard
Electric locking with illuminated, tactile lock/unlock button inside
Internal display screen showing user instructions, locked/unlocked, count down timer
Audible messages for visually impaired users
Timed cubicle usage set to 15 minutes as standard
Cubicle lighting control built-in
Night-time lockdown mode with night-time occupancy detection and alarm sequence
Stainless steel vision panel, with obscure, vandal resistant glazing
Concealed, lockable coin box and tamper resistant electrical bay access door.
Revenue and user counters, plus multiple user detection
Selectable daytime entry modes
Assistance required alarm
Door open detection with alarm
Service deadlock to put cubicle out of use
Keeping toilets free from vandalism
Public toilets can be an easy target for vandals, and it is frustrating when facilities have been refurbished or renovated to see buildings vandalised. The night-time lockdown mode with night-time occupancy detection alarm sequence and coin entry features of our toilet doors help prevent this. Our stainless steel vision panels come with obscure, vandal resistant glazing, and coin collection boxes are tamper resistant and concealed.
Ensuring toilets are accessible
When designing our toilet doors range we were very aware of the need to build in additional features to ensure toilets were accessible and met DDA regulations. In addition, to standard components like Radar key scheme access, and emergency assistance alarms, we also designed technology which helps visually impaired users. Our U15 Ultimate now has audible messages for visually impaired users, providing another level of support to vulnerable users.